Submitted by Staff on Mer, 2009-01-21 13:01
A tre anni di distanza dall'ottimo Imperfect, i Marsh Mallows tornano con La fine del mondo (Banana Records 2.0-Universo), quarto album della band punk-rock romagnola, che denota la continuità artistica del gruppo, con qualche piccola – gradita – novità.
La title track apre il disco e toglie subito ogni dubbio sulla "natura" del titolo dal sapore vagamente apocalittico: niente bombe atomiche o attentati ma il malizioso racconto dell'amore per la "professionista" di un night club, alla quale sul finale viene posta la doverosa domanda: quanto mi costa offrirti un drink?

Submitted by Staff on Ven, 2007-08-31 19:00
"Halber Mensch", il terzo album degli Einstürzende Neubauten: "Halber Mensch", il canto sospeso della civiltà industriale. Ad accoglierci è un ossessionante coro manipolato secondo i canoni dell'avanguardia contemporanea: voci deformate, moltiplicate e sovrapposte, a creare contrappunti maniacali. Voci e nient'altro, un coro a cappella, maligno e terrorizzante. Voci che declamano la morte dell'intelligenza e del libero pensiero, voci che annunciano con brama demoniaca l'avvicinarsi della fine.
"Noi azioniamo i tuoi pensieri. Noi percepiamo per te. Noi ci preoccupiamo per te, così che la tua seconda metà non ti incontri mai…" "Mezzo uomo, guarda la tua seconda metà , che senza alcun motivo si sveglia urlando, si avvicina urlando. Tu non la vedi, completamente rapito dal programma serale". "Mezzo uomo, niente a me, niente a te. Laggiù c'è la Mietitrice, va' avanti."
Submitted by Staff on Mar, 2007-07-03 19:05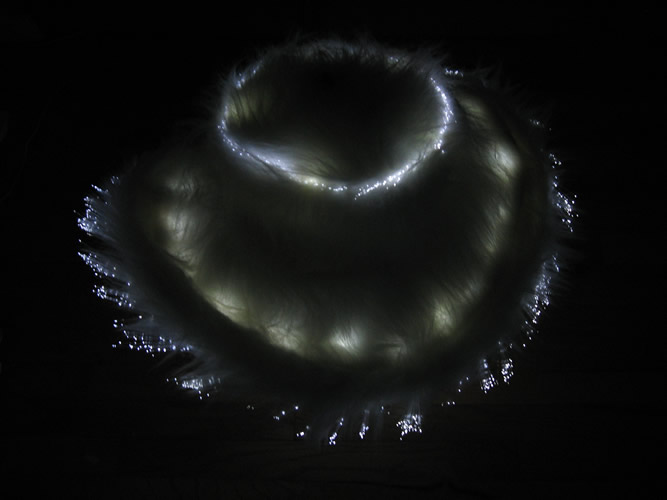 Ho deciso di scrivere questo articolo perchè ho appena aggiunto al sito un PLAYER MP3 che contiene alcuni brani di genere "Dark Ambient" e mi sembrava giusto proporvi una piccola guida all'ascolto.
Il "Dark ambient" è un sottogenere della musica ambient emerso tra gli anni 80 e 90 grazie all'introduzione di nuovi sintetizzatori, tecnologie di sampling e altre innovazioni tecniche nel campo della musica elettronica.
Submitted by Staff on Dom, 2007-07-01 07:47
Antipasto all'ottavo album di inediti dei Korn, MTV Unplugged: Korn testimonia la performance tenuta dalla band il 9 Dicembre 2006 a New York davanti ad una folla di una cinquantina di persone. Come altri artisti heavy prima di loro (Nirvana su tutti), i Korn rileggono molti dei loro pezzi in chiave acustica facendo emergere la parte meno aggressiva e più melodica del loro sound invece di quella più distorta e urlata.
Ad accompagnare l'operazione gli arrangiamenti curati da Richard Gibbs (archi, fiati, percussioni, cori), nonché l'eccellente Zac Baird al pianoforte. Inoltre, due duetti con ospiti illustri.

Submitted by desy on Gio, 2007-05-17 14:52
La notizia sta facendo il giro del web. Due sorelline di 6 e 9 anni hanno scalato la classifica di iTunes con il loro pezzo "Come Vasco Rossi" arrivando a superare lo stesso Blasco, presente nella classifica con "La Compagnia". Si tratta di Gaia&Luna, già dotate di myspace.
La canzone riprende i testi di molti dei successi di Vasco Rossi, per chiudere in un ritornello che fa "Vasco lo sai, per me sei un dio, spero che un giorno lo sia anch'io". Cose da notare. Uno: il congiuntivo subdolo. Più corretto che nel celeberrimo verso di Tiziano Ferro "Sarei più stronzo di ciò che ti aspettassi". Tiziano, le piccole ti hanno superato in italiano? Due: il pezzo, non certo originalissimo, è però molto orecchiabile e registrato bene. Ci sarà mica lo zampino di Agostino Carollo, padre dei due miniprodigi, che è musicista e produttore? Tre: le voci bianche sono sempre commoventi.
Submitted by Staff on Ven, 2007-04-13 19:43
Debutto discografico dei Deathstars, nuova scoperta della Nuclear Blast e importante uscita discografica dell'anno in ambito Industrial Metal. I Deathstars ripercorrono la strada intrapresa dai The Kovenant e dai Rammstein proponendo un'Industrial Metal davvero interessante pesantemenente contaminato dall'elettronica ma con chiare radici nel Metal estremo; infatti la line-up dei Deathstars (il cui monicker significa "stelle del Death" inteso come Death Metal come affermano loro stessi in alcune interviste) include addirittura ex-membri dei Dissection e di altre band nordiche dedite a Black e Death Metal. L'album è prodotto davvero bene, i suoni sono graffianti grazie soprattutto ad arrangiamenti di synths piuttosto riusciti, le chitarre compresse sono degne dei migliori Rammstein e la voce è addirittura a tratti piu' cattiva di quella di Nagash in "Animatronic". D'altronde non poteva che essere cosi' questo "Synthetic Generation" essendo registrato in uno dei migliori studi tedeschi e prodotto dallo stesso produttore dei Rammstein! Difficile da segnalare una canzone in particolare che possa riassumere l'album, forse la piu' rappresentativa è il singolo "Synthetic Generation".

Submitted by Staff on Mar, 2006-11-28 18:46
Welcome To Hell é l'esordio dei Venom, gruppo grezzo, acerbo nel suono, ma abbastanza maturo per/nel redigere i canoni scritti del metal estremo futuro.

Submitted by Staff on Dom, 2006-11-26 15:37
Le danze si aprono sotto una cappa di pioggia e di tuono, con lugubri campane (a morto, of course) che non lasciano spazio ad alcun dubbio: poi un riff solido, strappato alla fucina di un inferno qualunque, apre ufficialmente "Black Sabbath", che subito si quieta preparando la scena all'entrèe trionfale della voce chioccia e potente di Ozzie Osbourne. Il pathos é obiettivamente denso, come una bruma lattiginosa in cui si fanno luce le belle capacità percussive di Ward e la corposità avvolgente e gommosa del basso di Butler. La coda del pezzo é sicuramente degna di nota, accelerata su un bordone fremente di elettrica che "chiama" un assolo primario di Iommi. La successiva "The wizard" introduce qualche gustoso elemento in più, dalla ritmica memore di lontane avventure jazz al napalm di un'armonica ficcante (suonata da Ozzie Osbourne), col risultato di una strana atmosfera mossa, come fosse uno standard degli Yardbirds a cui un trip negativo ha estirpato la fede nel blues.

Submitted by Staff on Dom, 2006-11-26 15:33
"Panic" a mio avviso rappresenta il culmine musicale/compositivo della band toscana "Death SS".
I DeathSS sono attivi come band fin dai primi anni 80 e il loro sound é devoto a sonorità metal molto oscure contraddistinte dall'amore morboso per il genere Horror e l'Occulto.